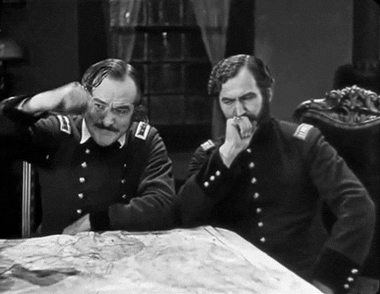 1920's : Buster Keaton: 
Known for his physical, slapstick antics, Buster Keaton was the 'stone-face' of comedy in the new platform of film. He's famous for seemingly impossible gags, establishing a new territory of comedy in his era. You can't take a film class without hearing his name. He's known for his feature films like
The General
and
Steamboat Bill Jr.

1930's: Charlie Chaplin: 
Relying heavily on pantomime and eccentric, quirky movements to convey humor, Chaplin paved the way for experimental techniques in comedy films. He's known for his works like
Modern Times,
and
The Great Dictator. (
Side-note: h
e's also infamous for his scandalous life outside of film.)

1940's: Bing Crosby: 
Known for his life in comedy motion pictures, as well as music, Crosby took the entertainment industry by storm in his era. He's known for many comedic films like
Going My Way
and
Road to Bali,
especially when he was starring on the silver screen with classic comedian, Bob Hope.

1950's: Jerry Lewis: 
As the Paramount comedy star, and former duo member with Dean Martin, Lewis was a thriving entertainer of the 1950's and beyond. Creating and starring in a plethora of comedy films, as well as being known for his quick improvisational humor on
The
Martin and Lewis Show
on the radio, Lewis seemed unstoppable in his career endeavors. He went on to pursue a solo career, and later directed many films like
The Bellboy
and
The Ladies Man.

1960's Joan Rivers: 
One of, or if not
the most
famous female comedian of all time, Joan Rivers was outspoken, fearless, and hilarious in her glory days of comedy. She pioneered comedy for females, as she was the first female late night television host and paved the way for stand up, igniting laughter with shocking comedy, insults, and witty observation.

1970's Rodney Dangerfield: Known as one of the greatest names in comedy, Dangerfield has mastered film, stand up, and simply being a hilarious person all around. If you've ever heard the phrase 'I don't get no respect!,' you know who to thank. With stand up specials,
No Respect
and
Back to School,
and classic comedy films like
Caddyshack
and
Easy Money,
and hundreds of witty one-liners, it's easy to see how Dangerfield rose to the top.

1980's: Robin Williams: 
Ah, the man himself, whom we all miss dearly. Williams' comedic talents of improvisation, mastering impressions and voices, televised comedy and classic comedy films, is famously loved by many. Appealing to practically any audience, his legacy of comedy wins him a place as one of the greatest. Need there be a further explanation? 

1990's: Jerry Seinfeld:

What is the deal with him? 
Inventing the best of sitcom comedy, Jerry Seinfeld is quite literally known as the 'king of comedy' by many. Exuding confidence, wit, and an expertise knowledge of humor, he's the creator of one of the most famous, long-running comedy series. His stand-up specials and screenwriting skills have made him one of the biggest names in comedy. 

2000's: Dave Chappelle: 
Relaxed, philosophical, clever and brilliantly hilarious–Chappelle takes on broad topics in stand up from politics to sex and drugs, and many more. Creating the
Chappelle Show, Half-Baked,
and
The Dave Chappelle Project
as well as hilarious stand-up specials like
For What It's Worth,
and
Killin' Them Softly.
He's known by many as one of the greatest names in the history of comedy.

2010's: John Mulaney: 
Taking the comedy scene by storm, Mulaney has created three successful stand-up specials (
New in Town, The Comeback Kid, and Kid Gorgeous)
undertook years writing for SNL, and co-created a new type of cartoon comedy on TV animation,
Big Mouth.
His aura of gentle, story-telling politeness is part of what ropes each audience in to roaring laughter. His talent in sketch comedy, self-deprecating nature, and surreal humor, are all what make him one of the current top names in comedy today.